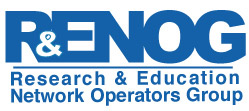 ---
Mailing List
Join the RENOG Mailing List
We encourage engineers from all R&E; networks to join the RENOG discussion. To join the mailing list, send a note to [email protected] with "subscribe renog-l" in the body. Alternatively, fill out the form below with your email address to sign up to the mailing list. After subscribing, you will receive an email with instructions on how to confirm your subscription to the mailing list.
The RENOG mailing list is to be used for general discussion of issues that relate specifically to the Research and Eduction networking space. It is not meant for general industry discussion or speculation about issues that relate to the much larger commercial Internet. There are existing -NOG mailing lists for each region that we actively encourage people to involve in those discussions. For more information, please visit the NANOG list of Networking Organizations.

To send a message to the Renog mailing list, you must first be subscribed to the list. Then, send an email to
[email protected].
All emails sent on the mailing list for each month are viewable on the listserv archives page.